Coming August 2021! A new cosy mystery in the Jesse Clarke series.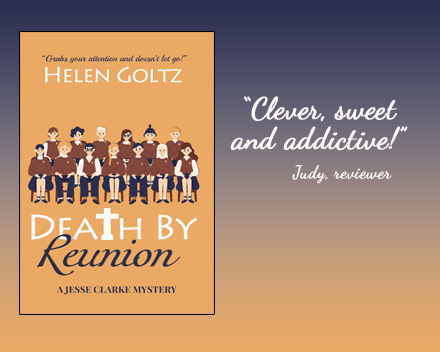 It was 10 years since Jesse Clarke finished high school and time to celebrate with a reunion. There were a few shocks – and that didn't include Jesse running a publicity and private investigator business – rather, the talk of the reunion was Alex Bryson, the overweight kid who transformed himself thanks to winning a place on the TV reality program, Lose it! But a week after the reunion, Alex is dead.
That's not the only reunion that's taking up Jesse's time. At a family reunion and 80th birthday celebration for a family matriarch, a very expensive Titanic relic goes missing – a Titanic Mourning Bear. T-Bear, as he is known, has started appearing in photographs all around the country!
Jesse has her work cut out in both cases. With support above and beyond the call of duty from boyfriend, Dominic, along with her grumpy and reliable business partner, Ed, Police Officer Jason, and Jesse's enthusiastic best friend, Melanie, Jesse was back solving mysteries while juggling publicity clients include Mona and her choir, again.